Whether you're an avid reader or not, you will probably agree that there is something inherently magical about bookstores. You don't need to actually read books to mindlessly wander through bookstores and read the spines of books; in fact, that's a lovely mini date idea right there! Something about being surrounded by books is calming and very serene.
Many of us even pop into a bookstore while on our way to do something else if we see one, not because we actually need anything but well, because it's a bookstore. If you haven't done this, then you should totally try it at one of these best bookstores in Kathmandu.
1. Pilgrims Book House
If you've been to Pilgrims, you'll know this place is every reader's utopia. They have books on every subject you could possibly imagine; whether it be religion, science, astrology, fiction, folktales, and many more. I've personally found really obscure books here that I didn't think I'd ever find! This place is also not just a bookstore, but also a great place to shop for gifts too. They sell handmade crafts made with recycled materials at a great price. They also sell a wide range of art supplies for artists. And if you're into personal care, they have that too! Items such as soaps, creams, aroma incense, and more. We dare you to visit Pilgrims and not spend at least 30 minutes there; you can't.
Location │ Thamel, Kathmandu
Facebook │ https://www.facebook.com/pilgrimsbookhouseOfficial
2. Bookverse
This is a fairly new bookstore in Kathmandu compared to the other ones that we have on the list. But it is the most unique as it is definitely a book lover's paradise. Don't you just wish you could walk into a rustic, European bookstore and meet your soulmate while reaching out for the same book? Well, make this dream come true at Bookverse! (although we cannot guarantee the soul mate part…). Bookverse has an intimate space that is aesthetically pleasing, complete with exposed bricks and a wooden bookshelf. You'll feel as though you have been transported to another world.
Location │ Civil Mall-4th floor, Sundhara Kathmandu
Instagram │https://www.instagram.com/bookverse.np/
Tiktok | https://www.tiktok.com/@bookverse.np
3. EKTA Books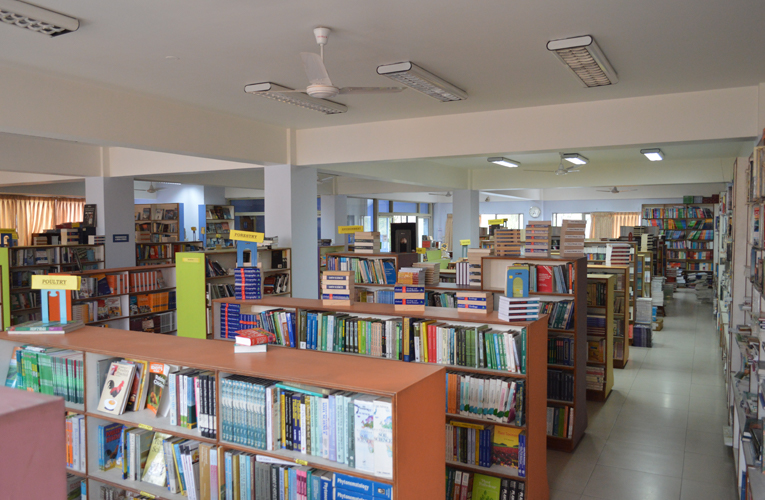 Ekta is mostly known for its publishing company but its bookstore is absolutely the best in Nepal. If you haven't visited there then well, here's your cue to do so. If a four-storied building filled with books is your idea of heaven, then you'll completely fall in love with this place. Ekta Books feels like one of those fancy libraries you see in Hollywood movies, ones with rows and rows of books where you can feel yourself losing all sense of time. If you have children, then take them here ASAP, there's a lot of material even apart from books for kids, and we promise you they'll love it here.
Location │ Prasuti Griha Marg, Thapathali, Kathmandu
Facebook │ https://www.facebook.com/EKTA.BOOKS
4. Patan Book Store
This is a small safe haven right next to Patan Dhoka. This place is often visited by students from Rato Bangala School next door but they have something for everyone. Patan Book Store is also one of the first places in the city to stock new arrivals so if you're waiting for a new book, they're a safe bet to check out. They also usually stock almost every Indian bestseller. The premises may be smaller in comparison to our previous entries, but it's cozy and homely and you can usually find what you're looking for here. Once you find a good book, you can actually enter through the small door to a beautiful garden restaurant, Dhokaima Cafe. Here, you can enjoy your book over a cup of coffee and the best slice of chocolate cake!
Location │ Patan Dhoka, Lalitpur
Facebook │ https://www.facebook.com/patan.b.shop
5. Tibet Bookstore
This is the ultimate place to visit if you want books on Tibetan philosophies, Buddhism, Spirituality, Meditation, Nepal, Tibet, and more. That is however not to say that they don't have books in other genres because they totally do. The owner is Tibetan himself so he gives out wonderful recommendations to the confused ones and is very helpful in general. The store itself has a very laid-back atmosphere where you don't feel pressured to buy anything if you don't want to. Overall, it's a fantastic place to visit if you're even slightly interested in the topics above.
Location │ Tridevi Sadak, Thamel, Kathmandu
Facebook │ https://www.facebook.com/TibetBookstore
6. Book Paradise
The store is already called Book Paradise so you probably have an idea on what type of place this is. Despite being relatively small, they sell some pretty rare books that many other bookstores don't. It's located at a pretty convenient location, on Jamal on the way to Durbarmarg, so you can just pop in while you're there. This place is usually crowded with fellow bookworms so maybe you can even find someone to have a nice conversation with about your favorite books!
Location │ Jamal, Kathmandu
Facebook │ https://www.facebook.com/bookparadise1
7. Mandala Book Point
This is a cute little place located in the busy streets of Kantipath. Mandala Book Point houses a lot of books in various genres for readers of all types. They are also fairly active on social media and post constant book reviews and information regarding the books at their stores. People who are truly passionate about books are sure to love this place.
Location │ Gairidhara, Kathmandu
Facebook │ https://www.facebook.com/Mandala-Book-Point